In the market for 44 years, Servi syringes participates in Exposul Rural for the first time
Publication date: 22/07/2021
Company, genuinely from Cachoeiro de Itapemirim ES, is specialized in veterinary syringes, among other products.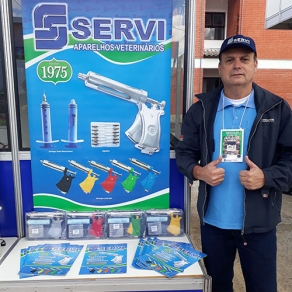 The growth of Exposul Rural has been drawing the attention of the entire Espírito Santo agribusiness chain. And if credibility starts within the home itself, the presence of local brands with tradition in the field becomes fundamental for the consolidation of this work.

And in this third edition it is possible to see large companies from Cachoeira supporting and participating in the event. One of them is Servi syringes, specialized in the field of syringes and veterinary devices and which will be present for the first time.

In the market for 44 years, based in Cachoeiro de Itapemirim, Servi's history is intertwined with that of its owner Jonas Altoé. Farmer, in 1975 he realized that rural people needed products for their daily lives. He invested in the business and now has a consolidated company in Brazil, with 38 representatives, and also already operating abroad.

For such success, Servi evolved and diversified its production line. In addition to the traditional syringes, it currently has more than 30 products available. Pride for its owner, founder and director Jonas Altoé, and also for its collaborators. One of them is Elcio F. Domingos, who coordinates the sales team in Brazil and gives details of Servi's participation in Exposul 2019.

"We are going to participate for the first time recognizing the importance and consolidation of this event, which is genuinely from Cachoeira, just like our company. The objective is to honor and enhance the exhibition, not least because we are directly linked to the agricultural sector", he said.

In addition to publicizing the work, exhibiting products and closing deals, Servi will act directly at the event, rewarding some of the participants.

"We will give personalized gifts with the Exposul 2019 logo at the auctions that will take place, to the animals awarded in the dairy contest and to the breed champion. It will be a pistol with a complete custom case and on the box cover written: Exposul 2019", explained Elcio.

Servi brings to Exposul the experience of major Brazilian agribusiness events. "In partnership with Currais Itabira, we have already participated in several fairs in Brazil, the largest, such as Expointer (Rio Grande do Sul), Expozebu (Uberaba), Agrishow (Riberão Preto), Rural Show (Paraná) and Fenagro (Salvador), among others. And for sure, being at Exposul only enhances our work", he concluded.

Servi is located on the Engenheiro Fabiano Vivácqua highway, in the Marbrasa neighborhood, but its products can be known and purchased on the website www.serviseringas.com.br. Exposul Rural 2019 starts next Wednesday (10), at the Exhibition Park, in the Aeroporto district, in Cachoeiro de Itapemirim.